Why You Should Use a Personal Trainer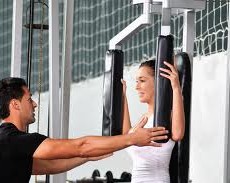 Why should you use a personal trainer?
There are many important reasons why you should use a personal trainer. Picking the right one to suit you may be difficult, but we are here to help lead the way. A personal trainer is a professional who has dedicated their life and chose their career to aid and guide eager clients like yourself to meet your desired goal in a healthy and safe fashion. Personal trainers have certifications that are recognized locally and throughout the nation plus many other qualifications to get you where you need and want to be physically.
They are hands on and have direct attention on you and your daily routine. Most have superior knowledge than your peers and friends and a trainers advice and knowledge scientific proof to work that passing their certfication grants them.
They can show you what to do and how to do specific movements and exercises safely achieve your goal. They have acquired and require knowledge for the individual with certain conditions that require medicines to guide those safely to lifestyle of overall health.
On the rare occasion injuries and accidents will happen inside a gym or training facility, but with a trainer they're there to keep you safe, and make sure everything goes correctly to bring you to overall physical health.
Personal trainers are kind, friendly people who have a passion to help their clients that will become peers and more importantly friends. Trainers will interact with you and be there for your all of your training and health needs and will answer any questions you have for them with an educated answer. Within time you will begin to develop a business based relationship which will become a friendship.
Benefits of a Personal Trainer
They're certified with a well rounded knowledge for all clients to help achieve results and progress
Trainers can help and adjust a work out you've been doing previously but weren't achieving desired results
Trainers have your undivided attention during a session so that you are benefitting the most from your work out and your safety is always the first thing on their mind
Their hands on and superior knowledge of fitness and health is has proof within their certification to be more effective and efficient than tips passed on from friends, family, and coaches, or things you may have read or seen on the internet
Trainers will put you on, and keep you on the road for an overall healthy lifestyle guaranteeing results that you want or may have not been seeing by yourself
Trainers help insure safety
Trainers know dumbbells and the digits on a scale are merely a number and will show you what to use and the difference in body composition versus weight
The cost of a trainer cannot and will not amount to the positive beneficial changes in your lifestyle, physique and body composition
A trainer will become your friend